Manila Ceremonial Lighting Event
Posted: November 17, 2022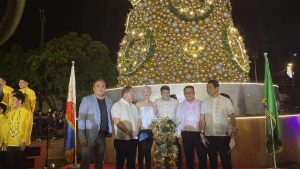 The Postmaster General and CEO, Norman N. Fulgencio, joins the Mayor, Dr. Honey Lacuna-Pangan and Vice Mayor Yul Servo with guests of honor at the ceremonial lighting event at the Kartilya ng Katipunan beside the Manila City Hall.
In front of Liwasang Bonifacio, meanwhile, the Manila Central Post Office is lit with traditional parol in between the pillars of its façade.

Republic of the Philippines
All content is in the public domain unless otherwise stated.

FREEDOM OF INFORMATION
Learn more about the Executive Order No. 2 - The order implementing Freedom of Information in the Philippines.
ABOUT GOVPH
Learn more about the Philippine government, its structure, how government works and the people behind it.
Copyright © 2022 Philippine Postal Corporation Made by Mybusybee Inc.