Delayed Delivery of Outbound International Mails by Air to Europe and Middle East
Posted: October 27, 2022
POST OFFICE OPERATIONAL UPDATES: 018-2022:
Delayed Delivery of Outbound International Mails by Air to Europe and Middle East. (Ordinary, Registered and Express)
We apologize for any inconvenience this may have caused.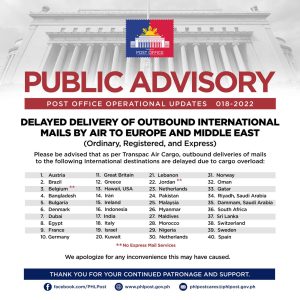 Republic of the Philippines
All content is in the public domain unless otherwise stated.

FREEDOM OF INFORMATION
Learn more about the Executive Order No. 2 - The order implementing Freedom of Information in the Philippines.
ABOUT GOVPH
Learn more about the Philippine government, its structure, how government works and the people behind it.
Copyright © 2022 Philippine Postal Corporation Made by Mybusybee Inc.