The Philippine Postal Corporation (Post Office) launched the special stamps to celebrate the victory of "Yuka Saso- the first Filipino to win the U.S. Women's Open Championship" held at the iconic Manila Central Post Office building in Liwasang Bonfacio, Feb. 22.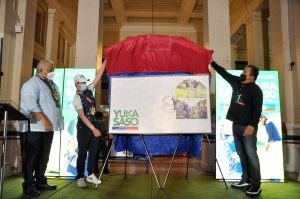 Executive Secretary Salvador Medialdea and Postmaster General Norman Fulgencio welcomed the presence of Ms. Yuka Saso which was accompanied by her father Masakazu and manager Jeff Chilcoat of Sterling Sports Management.
"Again thank you for this honor, I am very happy and super proud to be able to achieve this, and as a young girl I dream to become a professional golfer and play in the LPGA tour, and to be able to achieve that, there is a lot of hard work, time and efforts. With this kind of achievements, it makes me feel like, all the hard work pays off. I think you make me push more to be better. I am so happy and proud to represent the Philippines in Tokyo Olympics' and of course the 2021 U.S. Women's Open and to be able to win that, I hope I could keep this up and make you all proud, "Laban lang (keep fighting)", Saso said in front of the crowd who witnessed this historic moment.
The stamps feature the winning moments of Ms. Yuka Saso at the golf course and a photo holding her Harton S. Semple Championship Trophy.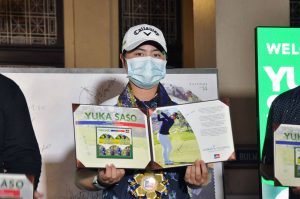 At an early age, she has actively represented the Philippines in golf tournaments. In 2014, Yuka won the Visayas Regional Amateur and Alex Montelibano Memorial Tournaments, as well as the Sabah International Junior Masters. Two years later, she won the gold in 2016 World Junior Girls Championship. She was commended with a national award for winning two (2) Gold medals in the 2018 Asian Games at 17 years old.
For her successive achievements, Yuka Saso has been hailed by the Philippine Sportswriters Association as Athlete of the Year in 2018 and 2020. She also represented the country in the 2021 Tokyo Summer Olympics where she finished 9th in the women's individual golf event.
"You inspired millions of Filipino youth to strive and play boldly. As one of the youngest to ever win the
U.S. Women's Open, you have showed what the Filipino youth is capable of. We sincerely honor the great Filipino individuals, through stamps, to fuel the Filipino passion for excellence anywhere in the world.", Postmaster General Norman Fulgencio said.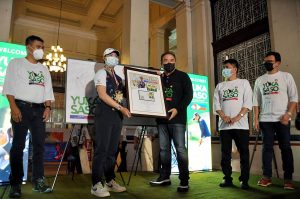 The Post Office has printed 60,000 copies of the four (4) colorful designs to be sold at P12, P14, P15 and P17 each. In-house graphic artists' Rodine Teodoro and Ryman Dominic Albuladora did the layout for the stamps.
Stamps and official first day covers of "Yuka Saso- first Filipino to win the U.S. Women's Open Championship" are now available at Philatelic Counter, Manila Central Post Office in Liwasang Bonifacio. For inquiries on the stamps, call (02)8527-0108 or (02)8527-0132 and follow and like Facebook page https://www.facebook.com/PilipinasPhilately/ for updates.
Copyright © 2022 Philippine Postal Corporation Made by Mybusybee Inc.