In observance of the 124th Philippine Independence Day on June 12, the Philippine Postal Corporation (Post Office) launched the commemorative Stamps to mark the 150th anniversary of the martyrdom of Fathers Mariano Gomes, Jose Burgos, and Jacinto Zamora, collectively known as GOMBURZA.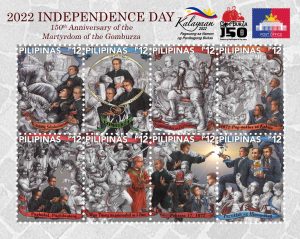 "The stamps illustrate the sacrifices and heroism of Fathers Gomes, Burgos and Zamora who gave their lives for freedom", Postmaster General Norman Fulgencio said.
Historically known as GOMBURZA, it also served as an inspiration for the country's National Hero Dr. Jose Rizal's historic work, El Filibusterismo.
On February 17, 1872, a Spanish court martial found three secular priests, Jose Burgos, Mariano Gomes and Jacinto Zamora, guilty of treason as the instigators of a mutiny in the Cavite navy-yard and were sentenced to public execution by garrote in the same year.
This year's Independence Day celebration carries the theme, "Kalayaan 2022: Pagsuong sa Hamon ng Panibagong Bukas (Rise Towards the Challenge of a New Beginning").
Considered as a National Holiday among Filipinos, the annual observance of Philippine Independence Day was signed into a law by former President Diosdado Macapagal through Republic Act No. 4166 on August 4, 1964.
According to Philippine history, the declaration of Independence from the Spanish colonial rule was held on June 12, 1898 by General Emilio Aguinaldo in Cavite El Viejo (Kawit), Cavite.
Post Office in-house graphic artist Israel A. Viyo designed the commemorative stamp, which will be sold at P12 per piece.
Stamps and Official First Day Covers are available starting June 13, at the Philatelic Counter, Manila Central Post Office. For inquiries, please call 8527-01-08 or 8527-01-32 or follow/like the facebook page https://www.facebook.com/PilipinasPhilately/ for updates.
Copyright © 2022 Philippine Postal Corporation Made by Mybusybee Inc.