Her Excellency Sara Zimmerman Duterte-Carpio, Vice President and Secretary of Education, Mr. Aniceto M. Sobrepena, President, Metrobank Foundation, Inc., Co-Chair of National Teachers' Month Coordinating Council and Philippine Postal Corporation (PHLPost) Postmaster General Luis D. Carlos unveiled the 2023 National Teachers' Month (NTM) commemorative stamps during the kick-off ceremonies highlighting the month-long celebration of National Teachers' Month held in the City of Tagbilaran in Bohol province, Sept. 05.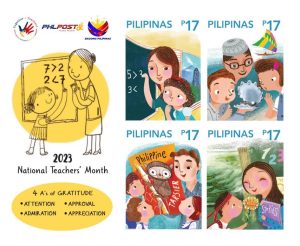 The NTM celebrates the excellence and greatness of Filipino teachers who are its partners in building a patriotic and child-friendly nation.
The month-long NTM celebration, which starts on Sept. 5, will culminate on Oct. 5 which is the World Teacher's Day (WTD) and also the National Teachers' Day (NTD) celebration.
"Through the NTM Commemorative Stamps, we pay tribute to our beloved and hardworking teachers who play an important role in shaping the future of the students under their guidance and care," Postmaster General Carlos said.
The Artworks for the colorful NTM Stamps were provided by illustrator Beth Parrocha, a founding member of Ang INK, ang Ilustrador Ng Kabataan, the Philippines' first and only organization of illustrators dedicated to children's illustration.
The stamp highlights the joy and wonder provided by our dedicated teachers in answering the important calling of being the source of refuge and guide to the Filipino youth.
The cartoon-style stamps illustrate the elements of Philippine culture that are embedded in the lively scenes of teachers sharing knowledge with students to learn more about our country's famous tourist spots such as Mayon Volcano in Albay, the Vinta of Zamboanga, Philippine tarsier of Bohol and the Banaue Rice Terraces in Ifugao province.
Layout by graphic artist Ryman Dominic L. Albuladora, PHLPost has printed 40,000 copies of the stamps to be sold at P16 each.
The theme for this year's celebration is "Together4Teachers". The digit "4" represents the 4As of Gratitude Framework: Attention, Approval, Admiration, and Appreciation. The objective is for all to come together as a community to celebrate and express gratitude for our teachers, using the 4As as its guide.
Stamps and official first day covers shall be available soon at SM Manila Postal Counter.

Copyright © 2022 Philippine Postal Corporation Made by Mybusybee Inc.