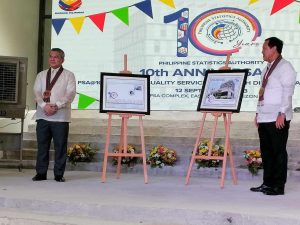 PHLPost Postmaster General Luis D. Carlos and Undersecretary Claire Dennis S. Mapa, PhD, Philippine Statistics Authority (PSA) National Statistician and Civil Registrar General unveil the commemorative stamps as part of the celebration of a decade of genuine public service with the theme: "PSA@10: Providing Quality Services through Digital Transformation" on 12 September 2023 at the PSA Complex, East Avenue, Quezon City.
The PSA was created by virtue of Republic Act (RA) No. 10625 otherwise known as the Philippine Statistical Act of 2013 dated 12 September 2013 and with mandates that are enhanced and expanded by the establishment of the Philippine Identification System (PhilSys) pursuant to RA 11055 and enactment of RA 11315 or the Community-Based Monitoring System Act (CBMS).
The PSA is the implementing agency of the PhilSys, which issues PhilIDs and ePhilIDs that can be used as valid proof of identity in transactions in government offices and private establishments. While the CBMS is an organized technology-based system of collecting, processing, and validating necessary disaggregated data, that may be used for planning, program implementation, and impact monitoring at the local level empowering communities to participate in the process. One of the objectives of the CBMS is to generate relevant statistics at higher levels that will compliment and supplement the local level data.
The PSA is also responsible for the implementation of the Law on Civil Registry Status (Act No. 3753) and other related civil registration laws. The civil registration operations of the PSA include generation of vital statistics based on registered births, deaths, marriages, and other vital events in the country through the Local Civil Registry Offices (LCRO), foreign reported vital events in the Philippine Foreign Service Posts and Sharia Courts for marriages, divorces and conversion to Islam.
In celebration of its achievements over the past decade, the PSA commemorative stamp featured the agency's 10th anniversary logo and the imposing façade of the PSA Civil Registration Service building which stood as a symbol of the PSA's unwavering commitment to innovation and digitalization of its products and services. It also emphasizes the agency's enhanced cooperation and partnerships with other government agencies and the private sector.
PHLPost has printed 40,000 copies of the PSA 10th Anniversary Commemorative Stamps to be sold at Php 16.00 each and will be available soon at SM City Manila Postal Counter.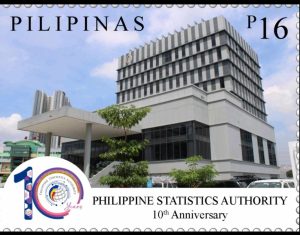 Copyright © 2022 Philippine Postal Corporation Made by Mybusybee Inc.