The Philippine Postal Corporation (PHLPost) has taken steps towards establishing their own Alternative Dispute Resolutions (ADR) program to fully equip PHLPost employees and officers in enhancing their knowledge and skills relative to the procedure used to resolve a dispute or controversy within their jurisdiction.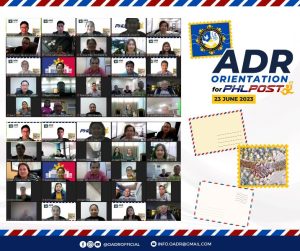 The Office for Alternative Dispute Resolution (OADR) facilitated the ADR Orientation for PHLPost last 23 June 2023, via Zoom online video conferencing platform.
The orientation is in line with the agency's effort to enhance their services in addressing internal conflicts and grievances. The discussions covered ADR's development in the country, its utilization advantages, OADR's course offerings, and the establishment of an ADR program in the postal service.
Republic Act (RA) No. 9285, otherwise known as Alternative Dispute Resolution Act of 2004 and Executive Order No. 97 mandates government agencies to establish a system in resolving disputes filed before them.
The webinar was participated by members of grievance machinery committees from the PHLPost Central Office, Regional Postal Areas 1-9 led by Acting Human Resource Management Department (HRMD) Manager Ms. Rosemarie Tubal and coordinated by Ms. Raquel Gonzales, HRMO III.
The comprehensive ADR accreditation training program has continued through the use of online platforms in reaching out to employees in implementing the ADR in their workplace.
Copyright © 2022 Philippine Postal Corporation Made by Mybusybee Inc.