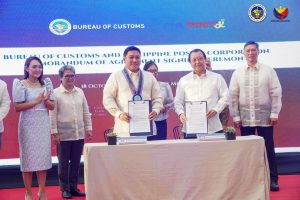 Expect smoother and efficient post office transactions at the Post Office with the latest collaboration between the Philippine Postal Corporation (PHLPost) and the Bureau of Customs (BOC) to benefit thousands of consumers, e-commerce business and overseas Filipino overseas who send and receive mails and packages abroad.
Postmaster General Luis Carlos and Bureau of Customs Commissioner Bienvenido Rubio signed the Memorandum of Agreement (MOA) yesterday, October 18, 2023 at Palacio de Memoria in Roxas Blvd. Manila.
The agreement marks faster customs clearance and coordination with Trade Regulatory Government Agencies (TRGA), reducing delays for importers and recipients, lowers trade-related cost due to streamlined procedures, enhances security measures, thereby reducing the risk of illegal and prohibited items and improved compliance with international customs and postal standards.
"These partnerships demonstrate a collective determination to foster inclusive economic growth in our beloved nation. The synergy between our organizations will undoubtedly elevate international trade performance and enhance competitiveness, propelling our country toward a future where opportunities are unknown," PMG Carlos said.
The BOC-PHLPost memorandum of agreement reflects its commitment to efficient customs and postal cooperation with support coming from ARISE Plus Philippines project, which empowers trade and international business development. ARISE is funded by the European Union (EU) with the Department of Trade and Industry (DTI) as the lead partner.
"Mas mabilis na makakarating ang mga parselang padala ng ating mga mahal sa buhay mula sa abroad (Those parcels sent by our love ones coming from abroad will now be receive much faster)" Postmaster General Carlos added.
He stressed that, "for the past decade, a couple of agreements have been signed between the two agencies aiming to improve public service. The continued effort to develop this partnership throughout the years has positively affected the way of living of Filipinos here and abroad".
Copyright © 2022 Philippine Postal Corporation Made by Mybusybee Inc.