The Philippine Postal Corporation (Post Office) released new stamps to mark the inauguration of President Ferdinand Romualdez Marcos, Jr. and Vice President Sara Z. Duterte.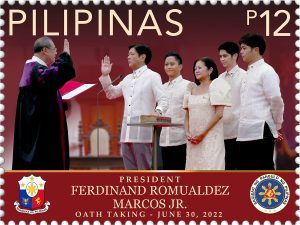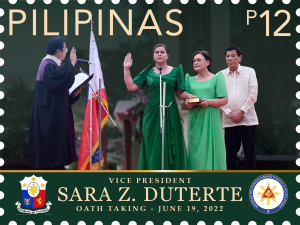 The Post Office released on Nov. 17 the first day of issue of stamps commemorating the historic inauguration of President Marcos Jr., who took his oath as the 17th President of the Republic of the Philippines held at the historic National Museum in Manila on June 30, 2022.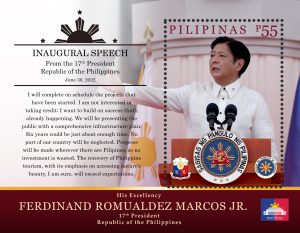 The complete set of stamps includes the President's Oath of Office administered by Supreme Court Chief Justice Alexander Gesmundo and witnessed by Marcos' wife, Liza, and their three sons, a Souvenir Stamp Sheet featuring President BBM's inaugural address, the Official First-Day Cover envelope depicting the first family and the combined souvenir sheet stamped and postmarked on the official First-day cover.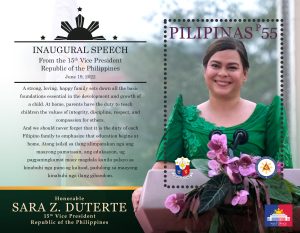 On the same day, a commemorative stamp was also issued to honor Vice President Sara Z. Duterte who took her oath as the 15th Vice President of the Republic of the Philippines, before Supreme Court Associate Justice Ramon Paul Hernando at San Pedro Square in Davao City on June 19, 2022.
The set of stamps features her oath of office, a photo of the inaugural speech, the combined Official First-Day commemorative cover envelope and a souvenir sheet of the inauguration, and the signing of document which was witnessed by her father, former President Rodrigo Duterte, and VP Sara's mother Mrs. Elizabeth Zimmerman.
"We are not just honoring them by issuing their stamps. We are commemorating a historic event for the country whereby a new president and vice president were elected by the Filipino people. The Post Office being one of the nation's guardians and recorders of history, we immortalize this significant event through these beautiful and meaningful stamps", Postmaster General Norman Fulgencio said.
The Post Office has printed 40,000 copies of the Presidential inauguration and another 40,000 copies for the Vice President's commemorative stamps. In-house Post Office graphic artists Eunice Beatrix Dabu and Ryman Dominic Albuladora did the layout of the said stamps.
The designs feature the official seals of the Republic of the Philippines and the Office of the President and Vice President respectively.
The launching ceremony for the Presidential and Vice Presidential Inauguration Commemorative Stamps shall be scheduled for a later date.
Stamps and official first-day covers are now available at the Philatelic Counter, Manila Central Post Office in Liwasang Bonifacio. For inquiries, please call (02)8527-0108 or (02)8527-0132 and follow and like our Facebook page https://www.facebook.com/PilipinasPhilately/ for updates.
Copyright © 2022 Philippine Postal Corporation Made by Mybusybee Inc.