The Philippine Postal Corporation (Post Office) in partnership with Megaworld Lifestyle Malls launches the "Pupusuan Kita – Araw ng mga Puso 2023" Valentine's Day Stamps and greeting cards held at Ponte Lobby Venice Grand Canal in McKinley Hill, Taguig City.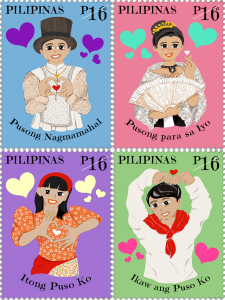 "This season of hearts, the Post Office, together with our Partner Megaworld Lifestyle Malls, will let the public experience how we can better express our love, care and respect for anyone who is important in our life", Assistant Postmaster General for Management Support Services Atty. Benjie Yotoko said.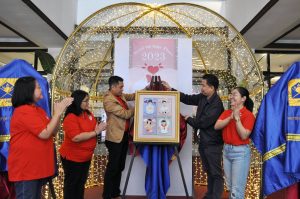 The Post Office has a satellite office on the Ground Floor of Venice Luxury Residences, where one can send letters, packages, and Postal ID's easily. PHLPost said that beyond the commercialization of Valentine's Day, this is a special day to thank people, whosoever they are. Your family, friends, or special someone.
Valentine's Day Stamp and greeting Cards have been promoted to drum up the interest of the public and our young generation today on the importance of letters in expressing our Love to our dear partners, friends, and families.
"The Postage Stamps that we will launch today remind us of our traditions, mixed with cool, witty, and cute hand gestures of Love. Designed by our in-house artist, the vintage charm, simplicity, and color of the block of four cartoon-style stamps complement each other perfectly", Assistant Postmaster General Benjie Yotoko said.
The stamps are inscribed with Filipino phrases: "Pusong Nagmamahal" (a loving heart), "Pusong para sa Iyo", (a heart for you) "Itong Puso Ko" (my heart), and "Ikaw ang Puso Ko" (you are my heart).
Filipinos are romantic in nature, thus the fascination with these love expressions shows their emotions in a joyful manner. Considered as one of the most awaited Philatelic releases, this year's Valentine's Day stamps were designed by Post Office in-house graphic artist Agnes Rarangol.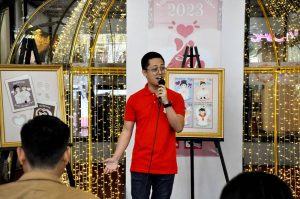 Meanwhile, the Post Office Mega Manila Area launches the "Pada-LOVE! Magpadala, Kiligin, Ma-in love", offering its traditional "Singing Kartero package" worth P2, 500, which includes a bouquet of flowers, a greeting card, and two (2) songs from the singing mailman.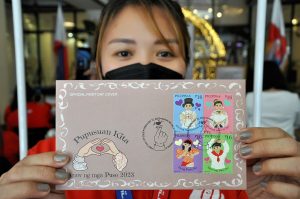 Running until February 15, the "Express Pada-LOVE" is not just for Filipino lovers but also an exciting way to promote its Domestic Express Mail Service (DEMS).
The Valentine's Day project caters to same-day/next-day delivery of flowers, chocolates, cakes, stuffed toys, cards, and other gift items along with the services of Singing Kartero to their loved ones during the week-long celebration of Valentine's Day.
For inquiries about the stamps, please call 8527-01-08 or 8527-01-32 or follow/like the Facebook page https://www.facebook.com/PilipinasPhilately/ for updates.
Copyright © 2022 Philippine Postal Corporation Made by Mybusybee Inc.