The Philippine Postal Corporation (Post Office) will launch on Monday, January 31, 4pm the commemorative "Year of the Tiger" stamps to mark the celebration of Chinese New Year 2022 at Seascape Village, Pasay City.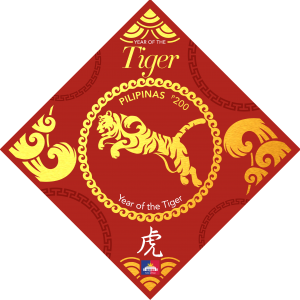 "We wish the Chinese community peace, prosperity and love", Postmaster General Norman Fulgencio said.
"This event will also give us an opportunity to both Chinese-Filipinos and Filipinos in the country to enjoy and appreciate this celebration in a simple ceremony. I understand that some of the festivities in Manila were postponed for the second time this year due to the threat of the coronavirus", Postmaster General Norman Fulgencio said.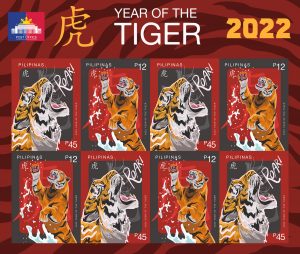 The Chinese Lunar New Year on February 01, is popularly celebrated not just in Asia but throughout the world. It is one of the most important holidays of the year for many Asian communities around the world and is primarily celebrated by people of Chinese, Korean, Vietnamese, Tibetan, Mongolian, Malaysian and Filipino heritage. Across these varied cultures, many traditions exist for ringing in a new year of good luck and prosperity.
The water tiger is the third of the 12 zodiac animal signs associated with the Chinese lunar calendar. As with other zodiac signs, personality traits and other attributes are often associated with people born in the year of a particular animal.
The Chinese calendar has sparked "a lot of interest" in recent years among Filipinos who "collect the (Chinese zodiac) stamps", the Post Office said in a statement.
The stamp issuance is welcomed by stamp collectors as it helps strengthen the ties between the Chinese and Filipino people.
"We firmly believe that this Year of the Tiger, which is the symbol of courage and strength, will propel us to greater heights as the Post Office gears up to modernize its systems, innovate its products and services and immortalize the rich history, culture, talents and achievement of Filipinos around the world", Fulgencio noted.
The Chinese Zodiac is about symbolically doing away with the old of the previous year and ushering in health, good fortune, prosperity, and happiness for the coming lunar year.
The Chinese cultural influence has been widely recognized in the country, from eating Chinese food, talking to Feng Shui experts for good luck, as well as reading their Chinese horoscope.
Stamps, souvenir sheets and official first day covers of "New Year 2022: Year of the Tiger Stamps" are available starting January 31 at the Philatelic Counter, Manila Central Post Office in Liwasang Bonifacio. Those who wish to purchase the stamp may also visit Seascape Village during the launching ceremony. For inquiries on the stamps, call (02)8527-0108 or (02)8527-0132 and follow and like Facebook page https://www.facebook.com/PilipinasPhilately/ for updates.
Copyright © 2022 Philippine Postal Corporation Made by Mybusybee Inc.