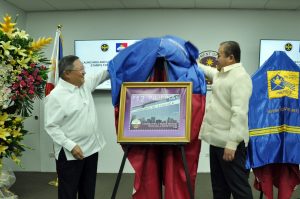 The Philippine Postal Corporation (Post Office) released new commemorative stamps to mark the 125th Founding Anniversary of the Department of Finance.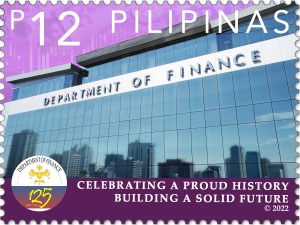 The launching and unveiling of the historic stamp underscore the vital role of the Department of Finance not only in ensuring sound fiscal policy for the government, but also for the responsible management of government resources to provide the Filipino people with infrastructure, education, health and other basic services.
"The Post Office appreciates and fully supports the crucial role of the Department of Finance to the economic condition of the country. We have paid its dividend arrears from 2004 to 2014 in the amount of Php 312,532,210 to the Department of Finance and remain updated to date as of 2021", Postmaster General Norman Fulgencio said.
Founded on 24 April 1897, by the Philippine Revolutionary Government, the Department of Finance has undergone various structural and functional overhauls but it has remained a key department of government that promotes public welfare and accelerates economic growth and stability of the nation.
The stamps feature the beautiful façade of the modern DOF Building on Roxas Boulevard, reflected on it is a busy skyline and on the upper left, the Philippine peso; both come to represent the growth and lively progression of the economy. The 125th anniversary seal is affixed on the lower left and this year's theme spans the lower right of the stamp.
This year's theme: "Celebrating a Proud History-Building a Solid Future", reignites our sense of patriotism especially among the young people, leading to a deeper understanding and appreciation of the Philippine economy and society.
'Ang Selyo o Postage Stamps na atin pong inilunsad ay may mahalagang papel na ginagampanan sa ating buhay at sa buhay ng ating bansa dahil ito po ay simbulo ng ating tagumpay at pag-unlad", Postmaster General Fulgencio said.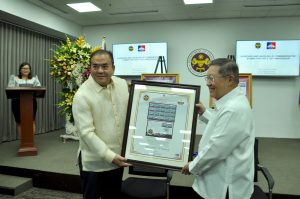 The Post Office has printed 40,000 copies of the stamps at 12 pesos each. In house graphic artist Eunice Beatrix Dabu layout the stamp.
Stamps and Official First Day Covers are now available at the Philatelic Counter, Manila Central Post Office. For inquiries, please call 8527-01-08 or 8527-01-32 or follow/like the facebook page https://www.facebook.com/PilipinasPhilately/ for updates.
Copyright © 2022 Philippine Postal Corporation Made by Mybusybee Inc.