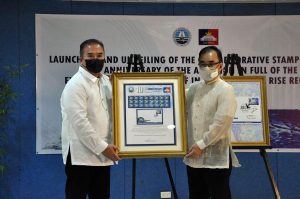 The National Mapping and Resource Information Authority (NAMRIA) hosted the unveiling of the commemorative stamps presented by the Philippine Postal Corporation (Post Office) on 25 April 2022. Mr. Postman, Norman N. Fulgencio, Postmaster General and CEO, Atty. Ayzeris B. Ong, Chief of Staff, and Ms. Jocelyn E. Cacho, Marketing Specialist and Project Officer for Special Projects and Postal Outlets represented the Post Office. The event was attended by key NAMRIA officers, namely: Usec. Peter N. Tiangco, PhD., CESO I, Administrator, Efren P. Carandang, Deputy Administrator and John Santiago F. Fabic, Deputy Administrator, among others.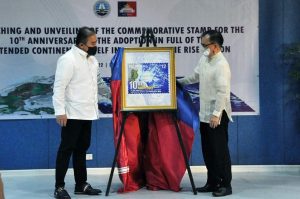 The stamp commemorating the "10th Anniversary of the adoption in full of the extended continental shelf in the Philippine Rise" highlights the large igneous province which is the #PhilippineRise, located east of Luzon. Ten years ago, on April 12, 2012, the Commission on the Limits of the Continental Shelf of the United Nations adopted in full the Republic of the Philippines' Submission for an extended continental shelf (ECS) in the area formerly known as the Benham Rise. This is the Philippines' first successful validation of a claim in accord with the 1982 Law of the Sea Convention.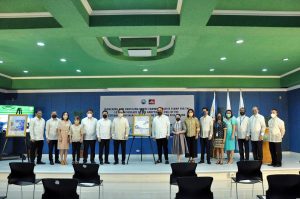 Copyright © 2022 Philippine Postal Corporation Made by Mybusybee Inc.