The Philippine Postal Corporation (PHLPost) main Post Office branch at the Manila Central Post Office in Liwasang Bonifacio earned its ISO 9001:2015 certification following the successful establishment of its Quality Management System (QMS).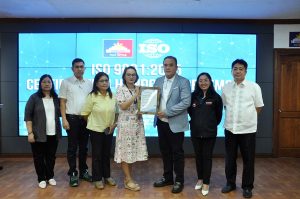 The certification was issued by WQA Phils Inc., an international certification body that provides quality certification services for various kinds of management systems in diverse sectors, in a simple handover of certificate ceremony witnessed by post office officials and employees led by Postmaster General Norman Fulgencio today, November 02, 2022.
The Post Office was regularly and rigorously assessed based on internationally recognized standards to demonstrate the competence, impartiality, and performance capability of post office services.
It underwent a successful 2-stage audit, verifying how the Manila Central Post Office in Liwasang Bonifacio operates a management system that has been assessed in conformity with the requirements of ISO 9001:2015 with the scope "Acceptance, Processing, Dispatching and Delivery of Mails and Parcels to and from Manila".
"The Post Office is an important institution created by our forefathers to connect to the world through communication and it should not only be protected and sustained but also improved. We, postal workers, are guardians in ensuring that we evolve and improve the postal experience in this changing world through ISO certification and technology", Postmaster General Norman Fulgencio said.
He added, "This is a testament to our commitment to strengthen and continuously improve our products and services and to go beyond public expectations".
Several initiatives such as training of officials and employees on Quality Management Systems and setting up of QMS structures and teams were achieved in assessing and monitoring the compliance of the required standards.
The Philippine Post Office has launched several initiatives to innovate and modernize its services which is timely and relevant, as it facilitates the efficient delivery of communications, payment of services, as well as goods and merchandise, especially now that industries and businesses shift their operations to more modern methods such as e-commerce and online transactions.
"We commit to regularly review and improve our system and processes to ensure continuous compliance with the requirements of ISO 9001:2015", Fulgencio said.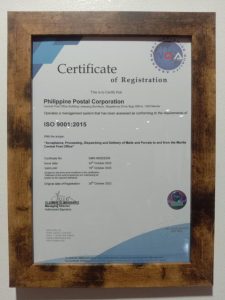 ISO, or the International Organization for Standardization, is an independent, non-governmental, international organization that develops standards to ensure the quality, safety, and efficiency of products, services, and systems.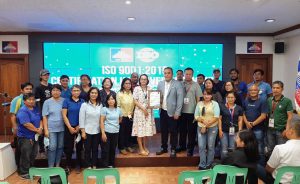 Copyright © 2022 Philippine Postal Corporation Made by Mybusybee Inc.