The Philippine Postal Corporation (PHLPost) formally accepted the donated office equipment and computers given by the Government Service Insurance System (GSIS) in solidarity with the on-going efforts of the Philippine Postal Corporation (PHLPost) to mitigate the effects of fire that burned their near-century old Manila Central Post Office Building.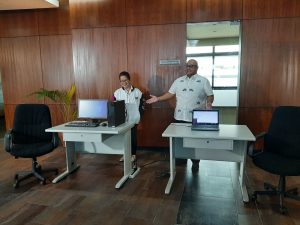 "We thank our government partner-GSIS for extending their assistance to PHLPost during this time. It is a great help for our affected employees especially in our continuous recovery efforts", said Atty. Lori Ann Atal, Officer in Charge and Assistant Postmaster General for Administration and Finance.
GSIS President and General Manager Jose Arnulfo 'Wick' A. Veloso President and General Manager officially handed over 45 steel tables, 45 chairs, 67 desktops and 7 laptops.
"Nung ako po ay nag-ocular inspection kasama si Postmaster General Carlos, nakita ko na ang mga kawani at lingkod bayan ng PHLPost ay nagta-trabaho sa ilalim ng makeshift tent, nasa ilalim ng araw at kalimitan ay nababasa pa sila ng ulan. Masikip ang area at tabi-tabi sa mga table ngunit patuloy silang naglilingkod para sa bayan. This resilience, this unwavering commitment to serve the public, is truly inspirational. Despite the setback on May 22, PHLPost employees never faltered in their duty", GM Veloso said.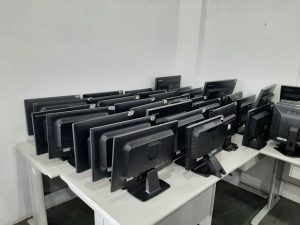 Meanwhile, PHLPost assured the public that all its branches are business as usual. The Manila Central Post Office has been relocated to the Surface Mail Exchange Department (SMED) in Delpan, Port Area. There are nearby post offices in Manila and other parts in Metro Manila where the public can also send their mails and packages.
PHLPost corporate offices are temporarily housed at the Central Mail Exchange Center (CMEC) facility in Pasay City.
Postmaster General Luis Carlos said PHLPost is now focusing on the recovery and rehabilitation of the damaged structure which is considered a national historical landmark.
Built in 1926, the historic Manila Central Post Office was designed by Filipino architects Juan Arellano and Tomas Mapua. It was damaged during World War II, during the Battle of Manila and was restored in 1946, right after the war.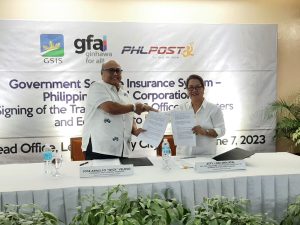 Copyright © 2022 Philippine Postal Corporation Made by Mybusybee Inc.