Chairman Victorino Manalo of the National Commission for Culture and the Arts (NCCA), Postmaster General Luis Carlos, Director Cristina Caringal, Member, PHLPost Board of Directors, Ms. Hannah Carinna T. Sy, Assistant Vice President, Special Events, SM Supermalls, Dr. Francis Navarro, President, Philippine Historical Association and Book Author Ian Christopher B. Alfonso unveiled the historic dog stamps.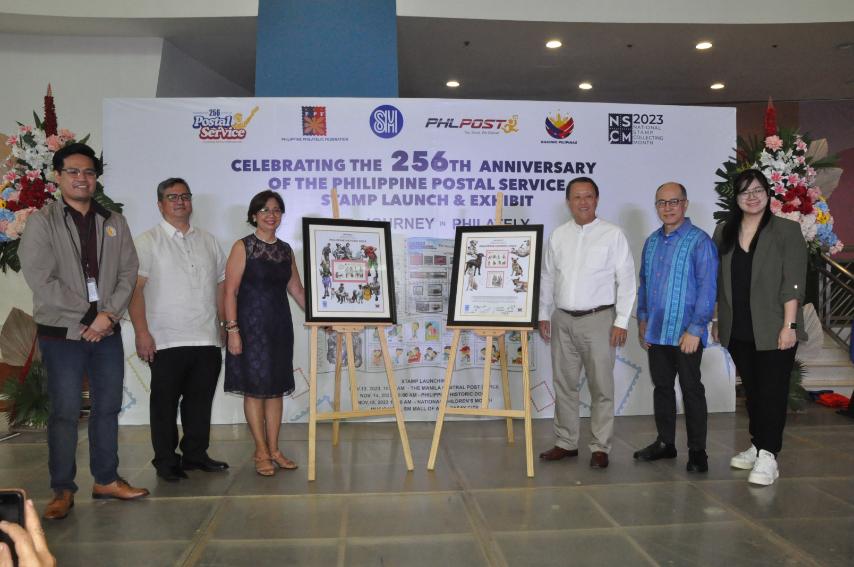 The "Dogs in Philippine History Special Stamps" was inspired by the book "Dogs in Philippine History", authored by Ian Christopher B. Alfonso. PHLPost's have utilized the book in designing these beautiful stamps which are expected to be appreciated by Dog and History lovers.
"The stamps awaken our understanding and treatment of dogs as it unfolds with the history of our country", Postmaster General Luis Carlos said.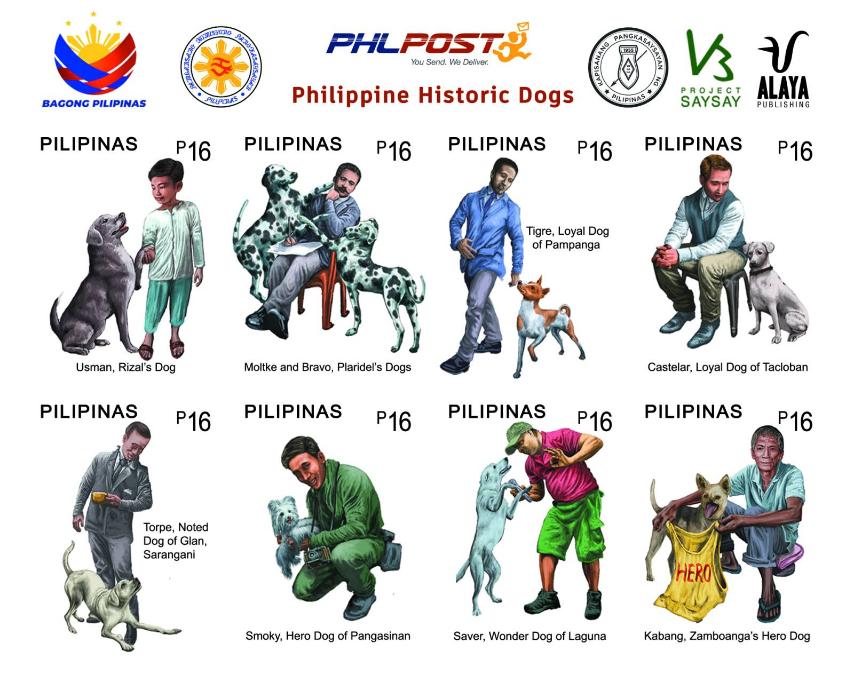 The following were the featured historic dogs:
1. Usman – one of the notable pets of young Jose Rizal in Calamba, Laguna.
2. Moltke and Bravo – the Dalmatians of hero Marcelo "Plaridel" H. del Pilar in Bulacan, Bulacan.
3. Like Hatchiko of Japan, Tigre faithfully followed his master, Don Tiburcio Hilario, to the latter's tomb in Bacolor Catholic Cemetery in Pampanga.
4. Castelar – a small Aspin in Tacloban, caught the attention of an American soldier, William Baker, during the Philippine-American War.
5. Torpe – a noted Aspin of Don Tranquilino Ruiz, led the Cebuano migrants to Glan, Cotabato (now part of the Sarangani Province) in 1914.
6. A female Yorkshire Terrier, Smoky was adopted by an American soldier William Wynne, in New Guinea in 1944. The two joined the Liberation forces in January 1945 and landed in Lingayen, Pangasinan.
7. Saver, a bright, iconic Aspin who figured in television and films from the 1990s to the early 2000s. A "Wander Dog" that elevated the dignity of the Aspins. He was previously featured in the souvenir sheet of the 2010 Dogs of the World stamps of PHLPost.
8. Lastly, Kabang, a rescued female Aspin-crossed German Shepherd, reportedly saved two kids in Zamboanga City from a vehicular accident in 2011, resulting in the loss of her snout.
"These historic dogs have left their paw prints on different chapters of our history. Their stories are a testament to the deep connection between humans and dogs, showcasing bravery and loyalty and the unique roles these furry friends have played in our lives", Carlos said.
According to PMG Carlos," the "Philippine Historic Dogs" collection will be a source of joy for stamp collectors and a reminder of the enduring love and connection between humans and dogs".
He added, "These brave and loyal dogs featured in the stamps give us a wider view and understanding of our history and culture, and in fostering love and care for animals, especially dogs which are considered "man's best friend".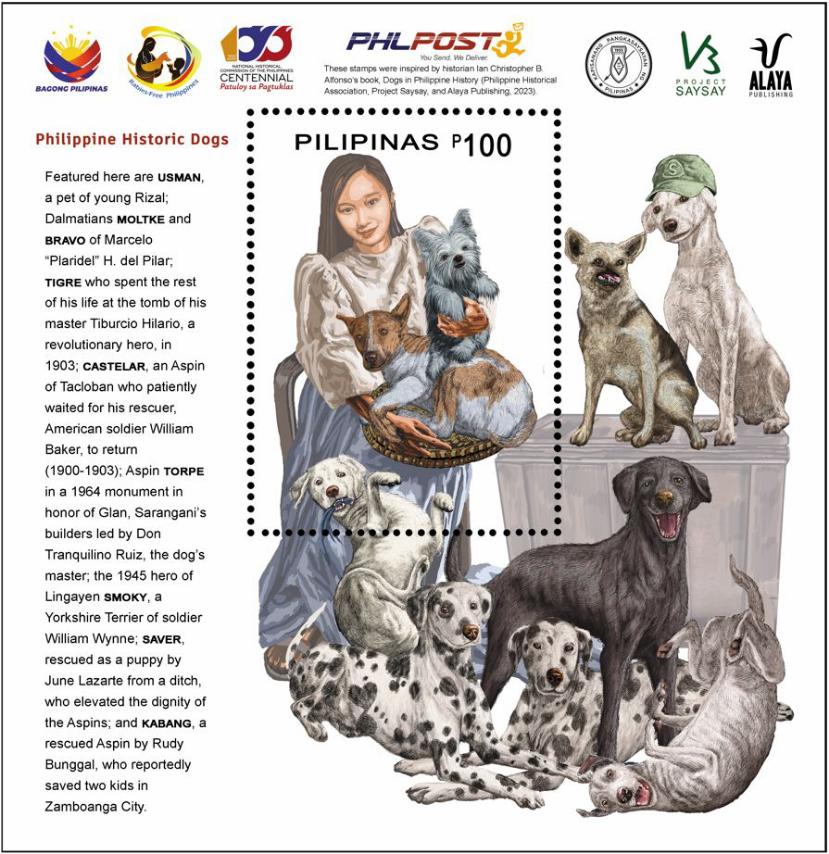 Copyright © 2022 Philippine Postal Corporation Made by Mybusybee Inc.